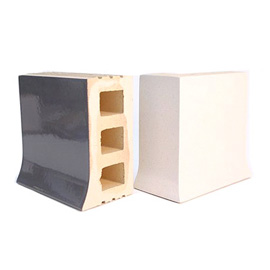 Cove Base
Cove Base Units offer a permanent touch of scuff-proof glamour, and are ideal for high traffic areas that have sanitary requirements. Available in a pleasing array of beautiful colors, Elgin Butler makes it easy to enhance carpet, terrazzo, marble, linoleum or concrete floors. Cove Base units can be manufactured as recessed, non-recessed or straight base types. No matter the selection, all Cove Base Units share the same prestigious qualities of Structural Glazed Tile.
4W Series - Cove Base
6T Series - Cove Base
8W Series - Cove Base
SPECIFICATIONS:
Structural Glazed Tile shall be ceramic glazed fire clay units as manufactured by Elgin Butler Company and shall conform to ASTM C-126, Grade S, Type I & II, selected from the manufacturer's standard colors. Sized for 3/8" mortar joints (except 6T sized for 5/16" mortar joints).
Dimensions in inches: Nominal 2" and 4" Thickness; Series/Sizes
4W 8-Square: 7-5/8 x 7-5/8
6T: 5 x 11-11/16
8W: 7-5/8 x 15-5/8
Recessed Cove Base: Typically used with terrazzo flooring or quarry tile. It has a 1/2" lip at the bottom of each unit that allows for the finished floor to be placed after the walls are installed. The flooring material then fills up to the 1/2" lip area leaving a sanitary transition between the flooring and walls.
Non-Recessed Cove Base: Typically used with a concrete slab and a thin type of finished flooring material, such as vinyl, epoxy, or a painted surface.
Straight Base: Typically used when a cove base is not required. Available in thicknesses of 2", 4", 6" or 8".