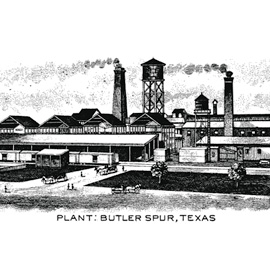 Our History
The Elgin-Butler Brick Company Story — Over a century of craftsmanship, pride and accomplishment.
In 1866, Michael Butler arrived in New York with aspirations of discovering great opportunity in the United States. Like many Irish immigrants, he traveled west from New York to Wisconsin and Missouri seeking opportunity and acquiring different skills along the way. With time, Mr. Butler honed his craft as a brick mason as he continued to move westward— and eventually south—to Dallas, Texas.
Mr. Butler built his first brick manufacturing plant in 1870, then sold it to his brother Patrick only three years later. In 1873, Mr. Butler moved to Austin where he founded Butler Brick Works, one of the first great mercantile establishments in the area and the predecessor to Elgin-Butler Brick Company. After being passed through four generations of Butler family members, Elgin-Butler Brick Company remained family-owned until it was sold in December 2005.
Michael Butler built a successful brick business, but also established a heritage of civic involvement and accomplishment, which is still followed by Elgin Butler Company management today.
After being passed down with pride and care through many generations, Elgin-Butler Brick Company remains loyal to the principles on which it was founded. The Elgin-Butler tradition of employee dedication continues. Our employees are experts in product knowledge and general industry information. Rely on the Elgin Butler team for information about the variety of custom products and services available.