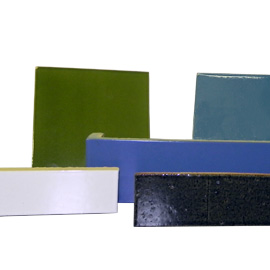 EB Thin Brick
EB Thin Brick offers same look and durability as standard masonry, but without the extra footings and weight limitations. Available in 60 standard colors, EB Thin Brick is a ¾" ceramic glazed thin brick with a fine clay body that is durable for both interior and exterior applications.
EB GLAZED THIN BRICK
EB GLAZED THIN BRICK shall be quality Ceramic Glazed Fire Clay Units as manufactured by the Elgin Butler Company or approved equal and conforming to ASTM C-1088-13, Type TBS, Grade Exterior for Physical Properties. Bed Depth shall be ¾" (+/-1/16").
Size and color shall be as selected by the Architect from manufacturer's current standard sizes and colors. The Ceramic glaze Properties of Finish shall meet the requirements of  ASTM C1405-12, Grade S (Select), Type I, Class Exterior